Returns Policy
Returns are not allowed, however product replacement may occur if the buyer follows the following procedure for filing a claim:
1) If the shipment is damaged, the buyer must sign for the shipment with a "damaged" remark, or reject the shipment altogether.
2) If the damages are found after opening the shipment, the buyer has 72 hours to report such damages to the seller, contact details are listed below in the Damaged Goods Policy.
3) Images must be provided of the damaged goods, unless otherwise instructed by Customer Service via email. Customer service will provide the appropriate submission methods for these images.
4) Allow 3-4 business days for product replacement orders to be processed, unless otherwise instructed by Customer Service.
Damaged Goods Policy
IIt is the buyers' responsibility to claim any damages during the shipment process either before they sign for the shipment with the delivery company, or within 48 hours of signing for the shipment(s). See below for an example of a signed Bill of Lading, indicating damage to the shipment. Please contact our shipment support team at 1-888-99-FRAME or email us at sales@pffusa.com immediately if you have any damages so we may proceed. It is required to send photographs of the damaged merchandise to Picture Frame Fulfillment before any credits or replacement products can be processed.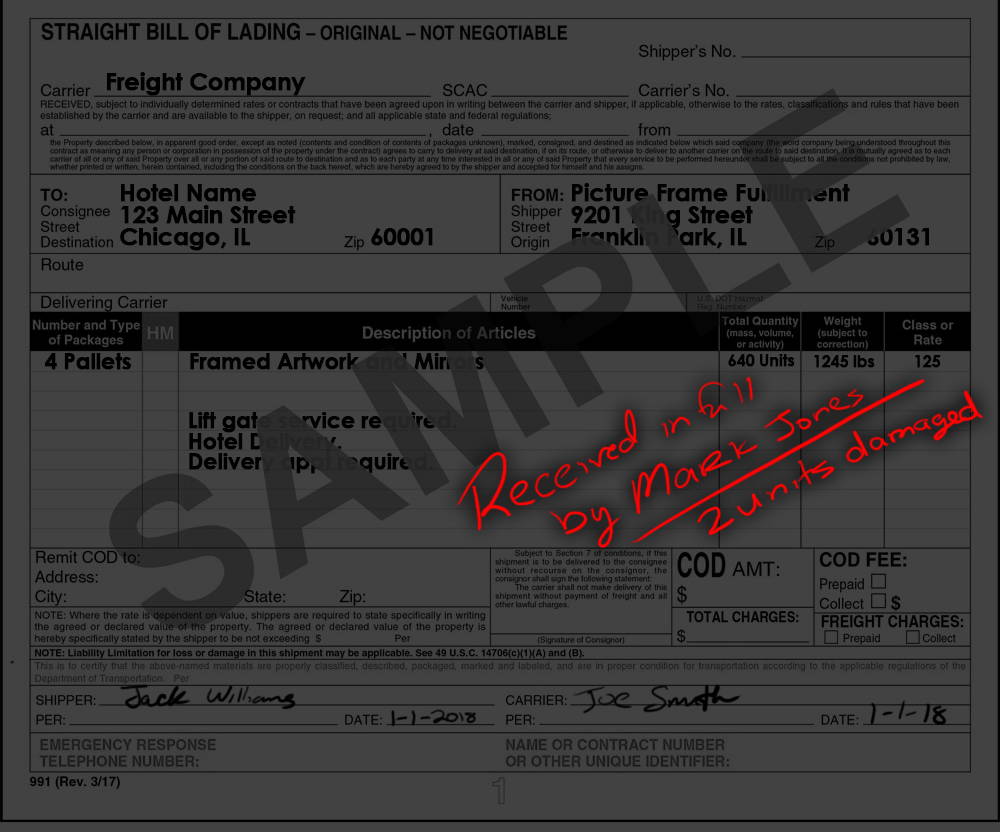 Shipping
We can ship to any address in the Lower 48 States. International shipping is available upon request, although the customer will be responsible for customs clearance of the shipment prior to it arriving to the destination country.
We provide freight quotes that include liftgate delivery for all hospitality orders. If you do not require liftgate delivery, meaning you have a forklift of your own that you can use to get the freight removed from the truck, then please notify your sales rep. Freight accessorials beyond liftgate delivery are not included in the shipping rates. If a customer needs any other additional freight accessorial, they must call their sales rep or 888-99-FRAME to request them.